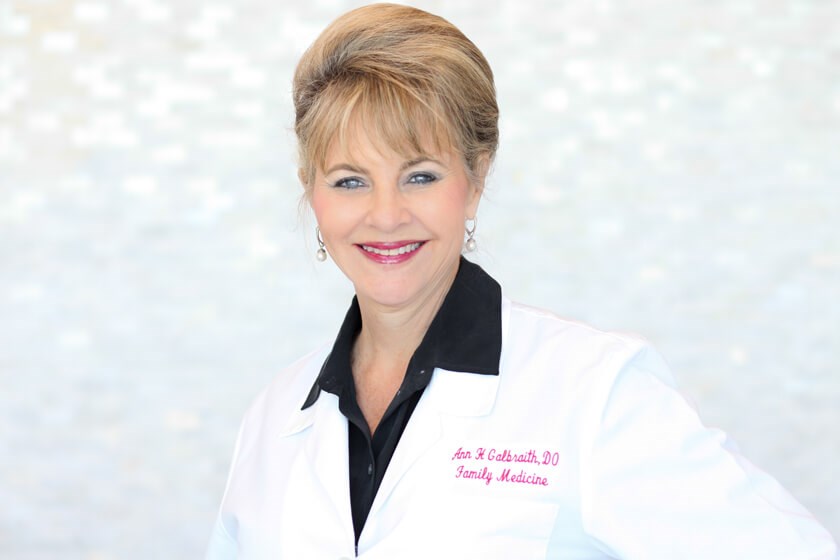 Dr. Ann Nolen is a doctor of osteopathic medicine in Dallas, TX who is board certified in family practice and in anti-aging medicine for men and women. Currently, Dr. Nolen works at The Derm Lounge Med Spa near the NorthPark Center in North Dallas. After receiving her doctorate degree, she underwent additional training to speciaize in anti-aging medicine, furthering her knowledge and broadening her reach to better serve her patients. Dr. Nolen is passionate about enriching the lives of her patients not only through quality medical care but through advanced aesthetic care as well. Helping her patients look as youthful on the outside as they feel on the inside brings her great joy and fulfillment.
Dr. Nolen has been practicing medicine for over 35 years, during which time she has become expertly skilled in performing a wide variety of cosmetic and aesthetic procedures. She is especially known for her expertise on skin resurfacing and medical-grade facials. Restoring the youthful look and texture of the skin is one of her unique specialties. She is also adept in performing injectables such as BOTOX®, Juvéderm, Voluma, and Vollure. Additional areas of focus include laser hair removal, laser vein removal, microblading, and nonsurgical skin tightening. Dr. Nolen strives to stay on the forefront of the latest advances in medicine as well as preventative and restorative techniques and procedures, offering a variety of services while constantly advancing her education.
Dr. Nolen received her undergraduate degree from Lamar University in Houston, TX. From there, she continued her education at the University of North Texas Health Science Center. Upon receiving her doctorate degree, Dr. Nolen went on to complete a medical internship at the Dallas Fort Worth Medical Center in Grand Prairie, TX. Once her medical training was concluded, she decided to enhance her skill set in aesthetic care and became board certified in anti-aging medicine by the American Academy of Anti-Aging and Regenerative Medicine. She is also board certified in family practice medicine by the American Osteopathic Board of Family Physicians.
Dr. Nolen has earned the Honor Roll Award by Healthgrades for her outstanding work in healthcare and is affiliated with the following professional organizations:
American Society for Laser Medicine and Surgery, member
American Osteopathic Association (AOA), past member
American Academy of Cosmetic Surgery, past member
Dr. Nolen was born and raised in Houston and is honored to call Texas her home. Although family medicine and aesthetic care is her driving passion, her first love is her family. On the days Dr. Nolen is not in the office, she enjoys spending quality time with her family and friends. She also enjoys traveling, reading, and relaxing poolside every chance she gets.